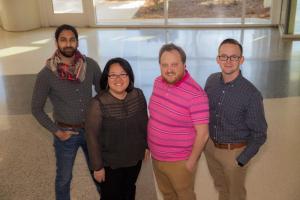 Two of the computing service providers available to you at GT are the Office of Information Technology (OIT) and the CoC Technology Services Organization (TSO). OIT operates a Help Desk located on the ground floor of the Clough Building (see details below).  TSO operates a central Help Desk, located in CCB 322, and provides walk-in, phone, and email support (see details below).
TSO provides technology services for CoC faculty, staff, and students regarding CoC technology resources.    
OIT provides technology services for all faculty, staff and students regarding GT technology resources, including all A/V requests for classrooms.    
Please check the Frequently Asked Questions (FAQ) and HowTo's links below to quickly answer some of your common questions.
The TSO Help Desk provides After Hours Emergency Support for CoC faculty and staff for critical services only.
SUPPORT ORGANIZATION
LOCATION
HOURS
CONTACT INFORMATION
FREQUENTLY ASKED QUESTIONS (FAQS) & HOW TO'S
TSO
CCB 225D

Mon-Fri

8AM-4PM

Primary Contact: Andrew Leonard, Phillip Cochran

E-mail:  helpdesk@cc.gatech.edu

Phone: 404-894-7065

Check the TSO FAQ & HowTo's Listing
OIT
Clough Building Room 215

Mon-Fri:

8AM-6PM

E-mail: support@oit.gatech.edu

Phone: 404-385-5555

Check the OIT FAQ Listing
Frequently Used Resource Request Forms