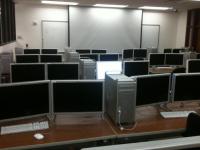 While OIT provides support for institute-scale and generalized instructional activities (classroom technology, general computer labs, software downloads, etc.), TSO provides support for the College of Computing's advanced and specialized instructional program through the management of technology and by providing primary points of contact for requesting help.  All instructional requests for technical help can be routed to the TSO Help Desk.  David Mercer is the primary point of contact in TSO with regard to requesting instructional resources and instructional computing technology infrastructure.
CoC Instructional Services
These require GT credentials:
Type of Service
Specific Service
Service Description

Notes

General (all CoC students have access)
General access server clusters
Academic-Use UNIX server
Remotely accessible
Azure Dev Tools for Teaching
Microsoft software download (free)
Remotely accessible
Door access
BuzzCard access to CoC doors
Requires physical presence
Help Desk
Requests & questions
Remotely accessible, but not 24-hour service
Course Specific (faculty must request access for their classes)
Digital Media and Gaming Virtual Lab
Computing via web client
Remotely accessible
PHP / MySQL
Web programming & databases
Remotely accessible
HPC clusters
Instructional HPC
Remotely accessible
 
 
 
Technology Fee Grant Coordination
Through grant awards, technology fees are the primary source of funding for baseline and specialized instructional technology resources in the College.  This fee is charged to current semester students to fund innovative instructional technology for use in classes.  A GT Technology Fee Committee awards grants to faculty proposals that are submitted annually (typically during Fall semester).  Each year, TSO sends a reminder to faculty to submit new technology fee proposals, coordinates the submission of proposals to the Institute, and helps manage the expenditure of many of the awards.  Refer to our Technology Fee Proposals page for instructions and to view past grant awards.
Resource Requests
Prior to each semester, TSO sends a reminder to the CoC faculty to request instructional resource before the semester begins.  Faculty subsequently request resources using online request forms (see below).  All CS majors and students in current CoC classes have access to the Shuttles Linux Cluster, so access requests for those resources are unnecessary.
Class User Accounts & Group Management
CoC instructional resources are accessed through the use of your GT user account and password.  Each semester, TSO ensures that appropriate classes are able to access the CoC instructional resources that the faculty have requested (see Resource Requests above).  When needed, TSO can also create and manage groups of users within classes for the purpose of project teams.
Computer Lab Management
The College operates instructional labs in the College of Computing Building (CCB) to address special instructional needs and secondarily, for shared-use as a general College resource. The primary purpose of these labs is to service courses which require special software or capabilities not readily available in the shared-use clusters provided by OIT (Refer to OIT's Computer Clusters page for more information).  On a secondary basis, the labs are also made available to the faculty, staff, and graduate students of the College.
OIT Computer Clusters (Student Center and the GT Library Commons)
Baird Lab (104A)
Instructor Labs (CCB 103, 104B, 107, 107A, 108, 117, 130)
To assure that the instructional labs provided by the College and OIT have the capabilities that are necessary to support all of our teaching programs, please consult with Andrew Leonard about your needs well in advance (preferably a minimum of a semester in advance, whenever possible). Since resources within both organizations are limited, there will inevitably be compromises with respect to the time frame in which acquisition, installation, and support of new capabilities can be achieved.
The Office of Academic Administration coordinates reservations of both College and OIT instructional clusters when specific laboratory times are desired. There is competition for the available time slots for OIT clusters and requests are normally fulfilled on a first-come first-served basis, so it is advisable to work with Cathy Dunnahoo to make your preferences known by the middle of the previous semester if possible. Andrew Leonard approves usage of the Colleges instructional facilities and can also provide information on both OIT and College facilities which may assist in making the best choice(s) for particular courses. If you are a CoC faculty or staff member and would like to reserve a lab for a workshop or lecture, please fill out the lab reservation form.
Printing
Lab Usage Policies
To ensure efficient operation of instructional resources, TSO maintains a set of reasonable policies.  These policies help define resource availability, reclaim data storage for reuse in subsequent semesters, provide authority to TSO to kill runaway jobs, and more.
Resource Usage Policy (GT credentials, TSO managed OS loads, file storage, special requests)
Student Account and Group Authorization
Instructional data availability (Windows desktop and profile data, local temp and scratch directories, php/mysql)
System Reload Policy
High Performance & Clustered Computing
TSO provides instructional high-performance computing (HPC) and clustered computing clusters for use in courses in parallel/distributed algorithms, large-scale data analysis, multi-core programming, and other computing fields.  Faculty teaching courses in the School of Computational Science and Engineering (CSE), the School of Computer Science (CS) and affiliated faculty in the School of Electrical and Computer Engineering may request access to these HPC resources prior to the semester for their class projects. 
Server Hosting
Shuttles - remotely accessible UNIX login servers
Data Storage
Web Hosting & Programming
TSO offers web resources for course needs, primarily for use in programming projects and assignments. 
HTML
PHP - Web programming service for class projects
MySQL - Database service for class projects.
Course Management
Georgia Tech (OIT, CETL and DLPE) provides a web-based Learning Management System (LMS) called T-Square for faculty and TA management of course information such as course and project sites, syllabus, schedule, roster, grade book, assignments, tests/quizzes, email lists and more.  Due to FERPA guidelines, it is best to centralize student information using T-Square rather than requesting separate resources, such as swikis or web sites.  Students also prefer using only one resource for course management needs.
Group Collaboration
Georgia Tech offers T-Square for course group/project collaboration and includes features such as chat rooms, drop box, wiki and more.  Georgia Tech also offers a local GitHub Enterprise server for source control and project management.
Software Downloads
Georgia Tech, the College of Computing and the University System of Georgia offer a number of resources related to software distribution and licensing for faculty, staff, and students. 
Additional information can be found here.