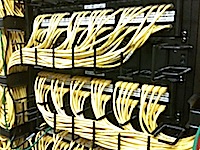 In cooperation with the Office of Information Technology (OIT), TSO manages baseline and specialized aspects of the College's network facilities in the College of Computing Building (CCB), the Klaus Building (KACB), the Technology Square Research Building (TSRB), and the Aware Home.  Please refer to our Network Facilities page for details on the College's internal and external connectivity.
Border Router Management
The College operates redundant border routers, one in CCB and one in KACB, to provide reliable network access to the GT campus core network (GTNet).  These Cisco Catalyst series 6500 routers form the core of the CoC network providing a 10 Gigabit per second (Gbps) uplink to the campus core network and 10Gbps for the College backbone.
Closet and Switch Management
The College manages networking equipment within secured closets in the College of Computing Building (CCB), the Klaus Building (KACB), the Technology Square Research Building (TSRB), the Aware Home to provide network connectivity to devices in offices and labs.  These "data closets" are are equipped with primarily Cisco Catalyst series 6500 and 4500 network switches and are interconnected with 10Gbps Ethernet uplinks to the CoC backbone.   Gigabit Ethernet is our baseline network connection for desktop computing, printers, etc.  Provisions for wired LAWN network access for laptops is available at every graduate student desk, faculty office, conference room, common area and classroom in the College.  Multimode and singlemode optical fiber is available in the majority of KACB and TSRB research labs and utilized only where distance or speed is required.   In our data centers, the College manages in-rack network switches to provide Gigabit Ethernet connectivity to servers, supplying excellent bandwidth for network services such as file service and digital media. 
Wall Port Activation
Computing devices in the College that require a wired connection use Ethernet wall outlets (a.k.a. "wall ports" or jacks) in offices and labs.  These wall ports connect to network switches that live in the nearst data closet.  Not all wall ports are "live" since the need for network connections in some buildings is less than the total number of physical wall ports.  In these cases, one may need to request a wall port be activated.  All ports in KACB are live and operate at switched Gigabit speed.  In TSRB and CCB, not all ports are patched, so if you need an extra port activated in your area, contact the TSO help desk.
End-user devices that connect to the network are automatically recognized by our data closet networking equipment which allows users to re-arrange labs without needing TSO's assistance (i.e. we do not use hard-coded wall port VLAN assignments).  We use VMPS (VLAN Management Policy Server) to automatically assign the appropriate network VLAN to each computer.   Unregistered end-user devices will default to a wired LAWN connection.
IP Address Requests
Each device requires an IP address to access the CoC network.  Each IP address corresponds to a memorable name, referred to as a system name using the Domain Name System (DNS) protocol (e.g. awesomeness.cc.gatech.edu).  Devices on the network are configured to obtain their address dynamically using the DHCP (Dynamic Host Configuration Protocol).  This allows IP addresses to be rearranged by the network administrator without breaking device connectivity.  TSO uses the DNS and DHCP services offered by OIT and field DNS requests from CoC users via an online request form:
Port Blocking and Firewall Requests
Using well-known best practices, certain protocols and ports are blocked at the border by OIT to maintain the integrity of the Georgia Tech network.  In cooperation with OIT, TSO assists with the management of the CoC border firewall which blocks further ports.   End-users may use either the GT VPN or CoC VPN to obtain authenticated access to the GT and/or CoC network to gain access to most services that are blocked.  End users may request firewall exemptions for TCP/UDP ports using the request form below.  After submission, requests are reviewed by TSO for prudence before approval.
GT VPN Service
OIT provides a VPN (Virtual Private Network) service to all faculty, staff and students to enable access to GT network services that are blocked at the border or by unit firewalls.  
CoC VPN Service
TSO operates a VPN service to all CoC faculty, staff and students to enable access to internal CoC resources.  Due to current limitations in the GT VPN service, the CoC VPN is required to identify CoC faculty, staff and student users and authorize access to internal services.
Wireless and Wired LAWN
OIT operates the campus wireless network called LAWN (Local Area Walk-up/Wireless Network).  Wireless users should use the GTwpa SSID (Service Set Identifier) network and authenticate with their GT account and password.  Wired LAWN access is available on CoC wall ports for any unregistered systems (i.e. your system is not in our DNS/DHCP system) and access is granted after GT authentication.   The TSO and OIT Help Desks can assist with any client side issues you may experience.  Please refer to the excellent documentation on the LAWN web site: