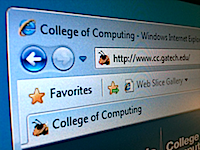 There are many options available to CoC faculty, staff and students for hosting web pages.  Both OIT and TSO offer web hosting as a service to users to make their content accessible via the World Wide Web.  These services provide data storage on a web server in a GT data center, providing Internet connectivity and with a system name ending in gatech.edu.  Web content can be uploaded via Secure File Transfer Protocol (SFTP), a Content Management System (e.g. Drupal) or other web interface if available.  Application development platforms for web programmers are also available (e.g. PHP and MySQL database servers). 
OIT Web Hosting
OIT's web hosting service provides an ISP-quality service to GT, including CoC users.  New web sites can be requested using an online form, however domains (i.e. sites) must be owned/sponsored by a faculty or staff member.  With sponsor permission, students can be domain administrators.  Using a Plesk-based, web control panel the domain administrator can manage their web server, install scripts (e.g. PHP), databases (e.g. MySQL) as well as other modules and applications (e.g. WordPress, Drupal, Mediawiki).  Domain administrators are responsible for the overall security of their site, identity management and for applying software updates.  All sites must adhere to the OIT Web Hosting Policy: 
OIT provides a free InCommon SSL certificate for web sites hosted on the OIT web hosting service and ending in gatech.edu.
OIT does NOT offer support services for installing or maintaining websites and that these tasks are the responsibility of the site owner or its administrators.   TSO will assist when resources are available as a best effort.
GT Canvas (Instructional Web Sites)
Georgia Tech (OIT, CETL and DLPE) provides a web-based Learning Management System (LMS) called Canvas for faculty and TA management of course information such as course and project sites, syllabus, schedule, roster, grade book, assignments, tests/quizzes, email lists and more.  Due to FERPA guidelines, it is best to centralize student information using Canvas rather than requesting separate resources, such as swikis or web sites.  Students also prefer using only one resource for course management needs.
In addition, some administrative and research web admins prefer to host their content on Canvas due to the feature set.
CoC Web Hosting
TSO offers secure and managed web hosting for CoC administrative, instructional, and research business needs.  Services are provided via a number of web server resources ranging basic HTML and scripting sites to Content Management Systems (e.g. Drupal).  Most of the web servers are hosted in CoC data centers and managed by TSO, but an increasing number of sites are being hosted with OIT's web hosting service.  Content on these sites are managed by CoC departmental stakeholders.  Examples of TSO-managed web servers include: 
TSO provides free InCommon SSL certificates for any web sites hosted on TSO managed web servers and ending in cc.gatech.edu.
Personal Home Pages
TSO offers on-campus faculty and graduate students with a CoC account a basic HTML and PHP scripting site for the purpose of a personal home page to provide information about their professional and academic pursuits.  Home page directories are conveniently available in each user's home directory under a directory named "www".  Users can copy files to their www directory using Secure FTP (SFTP).  The personal home page can be accessed via web browser using the link name:
http://www.cc.gatech.edu/~username
where "username" is the user's CoC account name.